Uma poupa gigante, obra de Bordalo II, um artista que cria esculturas de animais a partir do lixo como forma de sensibilizar para as questões da sustentabilidade ambiental, foi inaugurada esta quarta-feira, 26 de agosto, no centro histórico de Santarém.
A escultura fica na unidade turística Villa Graça – Hostels and Apartments, situada junto à Igreja de Marvila, em Santarém, mais concretamente no cruzamento para o Largo Pedro Álvares Cabral, onde fica a histórica Igreja da Graça.
A escolha da poupa teve muito a ver com o facto de ser uma ave que ocorre ao longo do rio Tejo, nomeadamente na zona de Santarém. Foi feita com materiais reciclados, nomeadamente pedaços de caixotes do lixo, brinquedos de plástico, mangueiras, capacetes de obras e outros materiais em fim de vida, que foram reaproveitados para esta obra de arte.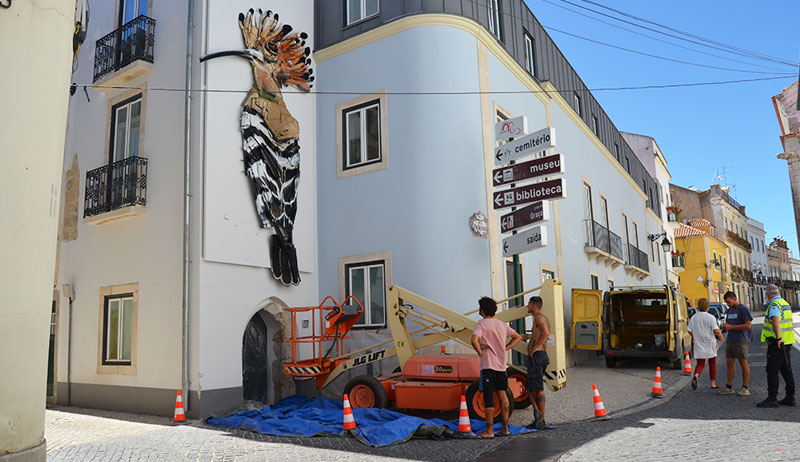 A escultura fica por cima de uma porta antiga, que inclui um marco gótico com centenas de anos que, segundo os promotores, foi encontrado durante as obras de recuperação e é único na cidade.
O Villa Graça – Hostels and Apartments, que inclui uma zona com 12 apartamentos T0 e T2 e um hostel com cinco camaratas e 2 quartos duplos, com capacidade para acolher 32 pessoas, foi construído num edifício centenário totalmente recuperado, que inclui vários pátios interiores, e cuja inauguração oficial deverá ser feita nos próximos meses, apesar de parte da unidade turística já estar em funcionamento, incluindo o restaurante "Pátio da Graça", especialista em cozinha peruana e asiática.
A unidade turística é pertença da sociedade de investimentos IIFPG, que além do Villa Graça está também a desenvolver em Santarém projetos de apartamentos de luxo no antigo Colégio de Santa Margarida e junto à Encosta da Santiago, ambos próximos das Portas do Sol, tendo também em fase de aprovação um investimento residencial de luxo junto à antiga escola do Pereiro.
Fonte: Rede Regional –  https://www.rederegional.com/economia/30241-poupa-da-nova-graca-ao-centro-historico-de-santarem